This is my real hair now, after working to grow it back for 2 years. I've given up, for now, on trying to grow it back to its original long length. But having hair of any kind is proving to be a lot of work! I never thought I'd say that!
Our family Easter 2012
~ . ~ . ~ . ~ . ~ . ~ . ~ . ~ .
November 2008, 2 weeks after breast cancer surgery, visiting my son at University of Virginia. I am amazed that I actually seem like I was doing pretty good here. I was on a lot of drugs! LOL!
Our Golden, Colby
Family vacation summer 2008 Myrtle Beach, S.C.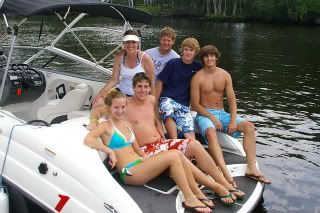 This photo was taken on my birthday, 2 days before my mastectomy. I had to cling to this promise from God given in The Bible
2 weeks after beginning chemo therapy, my hair was falling out in handfuls. I wanted to donate it so we roped it off, all 15 inches,cut it all then shaved my head. My son Keith shaved his head first. This was a very difficult day for me.
I enjoy kayaking here in Virginia where the water is less than a mile from our house. My husband and I often spend our weekend afternoons taking in the beauty, sharing a picnic, and photographing wildlife in the area.